This Full day itinerary will enable you to discover the town's best known treasures such as Vatican City,St. Peter Basilica, The Colosseum, Roman Forum and the Arch of Titus, The Arch of Costantine, The wedding cake building, Venice Square and much more.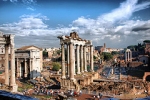 Explore the famous ancient ruins, reflecting twelve centuries of Roman cultural, political and religious history, as your guide escorts you through the ruins of Imperial Rome. Visit the Roman Forum, the heart of ancient Rome, where the creation of the Roman civilization is reflected in the vast ensemble of ruins. Walk through Via Sacra (Sacred Way), the route followed by religious and triumphal processions. The imposing triumphal Arch of Titus was erected in 81 AD by the Emperor Domitian in honor of the victories in battle of his brother and father in Judea. A symbol of the "Eternal City," the Roman Colosseum is one of the most important monuments of ancient Rome. There, you'll have time for photographs outside the Colosseum. You will also see the impressive Arch of Constantine.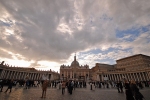 You will have free time for lunch, or the opportunity to join an optional typical lunch in a local restaurant.
Afterwards, drive to the Vatican City to visit St. Peter's Basilica, the largest church in the world. Among the many fine pieces of art on display are Michelangelo's "Pieta" and the beautifully carved Bernini Pulpit. A brief time will be allotted for you to explore or shop at your leisure.
Possibility to include, under request, Vaticna Museums and the Sistine Chapel.