Expand your real Italian discovery through a hands-on cooking lesson with our Italian family-chefs in a farm-house for an introduction to authentic Italian recipes. Learn and enjoy step-by-step how to make a satisfying, full Italian meal from appetizers to dessert, including the art of making pasta fresca.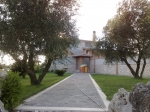 A visit to the Eternal City is a sensory feast.
Known for her spectacular ruins, sumptuous churches and stylish shops, Rome can be considered among the most visually stimulating places on earth. And although its sounds and scents are also quite strong, to those for whom the sense of taste takes precedence there is really no other place like it.
Our cooking classes take place in the country kitchen of a beautiful countryside farm-house, in the gorgeous rolling and green hills of Rome.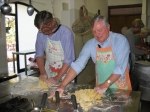 During our hands-on cooking lesson you will learn classic Italian cooking from a local woman who will reveal you family recipes that have been passed-on throughgenerations. These recipes are all true home cooking, and everything is done by hand. Get the apron on and go wrist-deep in dough as we explore the art of cooking in the Italian countryside. We savor the fruits of our labor during a festive lunch.
A tour of their farm-house and property is included.
This unique optional experience can be added and customized to any tour offered.