Attracted by the mineral wealth found in the regions of Tuscany, Lazio and Umbria, the Etruscans made their way to Italy around 900 BC. Traces of Etruscan civilisation can be found in their burial sites and in the artefacts found in their tombs. They were preoccupied with the afterlife and dedicated much effort in building burial sites carved into rock or constructed from stone slab and reached by dedicated rock-cut roads.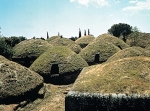 For an exploration of Etruscan artefacts we will start in the valley of CERVETERI, where about 2000 Etruscan tombs among the most famous in the world can be found. We enter the necropolis Necropoli della Banditaccia, which has been declared by UNESCO a World Heritage Site and where we will explore the most important typologies of tombs from the IX to the II century B.C. It covers an area of 400 ha, of which 10 ha can be visited, encompassing a total of 1,000 tombs often housed in characteristic mounds. It is the largest ancient necropolis in the Mediterranean area. The necropolis is a city of the dead which bears impressive witness, in the scale of the necropolis and the richness of the buried goods, to the importance attached by the Etruscans to the cult of the dead. On either side of a "main street" some 2km/1.5mi long, with a number of side streets, lie hundreds of tombs, including huge tumuli up to 30m/99ft in diameter and many tomb chambers hewn from the rock in the form of dwelling-houses, often with several rooms, with frescoes like the Tomb of Rilievi decorated with plaster reliefs of mythological figures.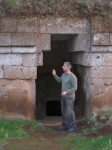 Optional extension of the guided tour to the Etruscan Museums that contains a selection of Etruscan artefacts that were found in tombs nearby. The best finds now can be seen in the Museo Nazionale Cerite near the modern city of Cerveteri or at Vatican Museum or at Villa Giulia in Rome.
The necropolises of Cerveteri is a masterpiece of creative genius that reveals aspects of life, death, and religious beliefs of the ancient Etruscans.
Cerveteri shows in a funerary context the same town planning and architectural schemes used in an ancient city. It constitute a unique and exceptional testimony to the ancient Etruscan civilisation, the only urban type of civilisation in pre-Roman Italy.
Many of the tombs of Cerveteri represent types of buildings which no longer exist in any other form. The cemeteries, replicas of Etruscan town planning schemes, are some of the earliest existing in the region.