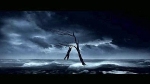 The largest and most important UN climate change conference in history opened Monday, with diplomats from 192 nations warned that this could be the best, last chance for a deal to protect the world from calamitous global warming. The UN meeting started with this video "
Save the world".
---
The conference, the climax of two years of contentious negotiations, convened in an upbeat mood after a series of promises by rich and emerging economies to curb their greenhouse gases, but with major issues yet to be resolved.
Conference president Connie Hedegaard said the key to an agreement is finding a way to raise and channel public and private financing to poor countries for years to come to help them fight the effects of climate change.
Hedegaard — Denmark's former climate minister — said if governments miss their chance at the Copenhagen summit, a better opportunity may never come.
"This is our chance. If we miss it, it could take years before we got a new and better one. If ever," she said in prepared remarks.
Denmark's prime minister said 110 heads of state and government will attend the final days of the two-week conference. President Barack Obama's decision to attend the end of the conference, not the middle, was taken as a signal that an agreement was getting closer.
At stake is a deal that aims to wean the world away from fossil fuels and other pollutants to greener sources of energy, and to transfer hundreds of billions of dollars from rich to poor countries every year over decades to help them adapt to climate change.
Scientists say without such an agreement, the Earth will face the consequences of ever-rising temperatures, leading to the extinction of plant and animal species, the flooding of coastal cities — about half of humanity lives with 100 miles (160 kilometers) of a coastline — more extreme weather events, drought and the spread of diseases.
Negotiations have dragged on for two years, only recently showing signs of breakthroughs with new commitments from The United States, China and India to control greenhouse gas emissions.
The first week of the conference will be focused on refining a complex text of a draft treaty. But major decisions will await the arrival next week of environment ministers and the heads of state in the final days of the conference, which is due to end Dec. 18.
EU keeps world in suspense on 30 percent vow
Only at the endgame of the Copenhagen summit will the European Union tell whether it considers other nations' pledges to be "comparable". A "yes" would raise the EU emission reduction commitments.
To keep up pressure on other major players, mainly USA and China, the EU will hide its cards on a key issue until the very last moment of the UN conference on climate change. This is according to the Swedish Minister for Environment, Andreas Carlgren. As Sweden holds the rotating EU presidency, Mr. Carlgren is negotiating on behalf of the union.
The EU has already adopted a commitment to reduce its greenhouse gas emissions by 20 percent by 2020 compared to 1990 levels. However, the decision also specifies that the union will raise its commitments to 30 percent if other major players undertake "comparable commitments" – without specifying what would qualify as being "comparable".
"The EU is ready to raise its commitments from 20 to 30 percent, but this would require others to bring something to the table. The endgame will be about what the US and China will deliver. It would be rather astounding if President Obama came to Copenhagen only to offer what he has already said," Andreas Carlgren told a press conference, according to Danish daily Politiken.
He added that "we are still expecting larger reductions (than so far committed to) from our Chinese friends and colleagues." (Photo of Swedish Environment Minister Andreas Carlgren: Gunnar Seijbold/Regeringskansliet)