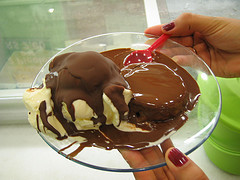 Ingredients (4 servings)
500 gr. Mascarpone cheese
5 Eggs
5 Tbsp Sugar
2 Cups sugared cold espresso coffee
1/2 Cup of liquor
40 Savoiardi (ladyfinger cookies)
2 Tbsp Cocoa powder
---
Pour the coffee and liquor into a shallow dish.
Set aside and keep refrigerated.

Beat the egg yolks and sugar in a large bowl with electric beater until pale and thick. 

Add mascarpone and mix well with an electric mixer, then add whipped cream. 

Using a wooden spoon, mix until just combined and refrigerate the mascarpone mixture.

Beat egg whites in a medium bowl with electric mix until becomes a foam like 'snow'

Form a layer of cream then a layer os cookies dipped in the coffee and another layer of cream, repeat the step adding another layer of cookies in the opposite sense and cover with other cream.

Sprinkle with cocoa powder on the top and refrigerate for 3 hours.