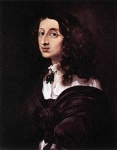 Christina (Swedish: Kristina Augusta; 18 December [O.S. 8 December] 1626 – 19 April 1689), later known asChristina Alexandra and sometimes Countess Dohna, was Queen regnant of Sweden from 1632 to 1654. She was the only surviving legitimate child of King Gustavus Adolphus of Sweden and his wife Maria Eleonora of Brandenburg. As the heiress presumptive, at the age of six she succeeded her father on the throne of Sweden upon his death at the Battle of Lützen in the Thirty Years' War.
After converting to Catholicism and abdicating her throne, she spent her latter years in France and Rome, where she was buried in St. Peter's Basilica.
Early life
Christina was born in Stockholm, and her birth occurred during a rare astrological conjunction that fueled great speculation on what influence the child, fervently hoped to be a boy, would later have on the world stage.The king had already sired two daughters, both buried in Riddarholmskyrkan in Stockholm - a nameless princess born in 1620, and then the first princess Christina, who was born in 1623 and died the following year. So great expectations arose at Maria Eleonora's third pregnancy in 1626, and the castle filled with shouts of joy when on December 8 she delivered a child that was first taken for a boy - he was so hairy and screamed with a strong, hoarse voice. Christina writes in her autobiography, "Deep embarrassment spread among the women when they discovered their mistake." The king however was larkhappy, stating that "She'll be clever, she has made fools of us all!" Christina was born with what Scandinavians call a victory-shirt (meaning a more or less intact fetal membrane clinging to the newborn baby). This could explain the confusion about Christina's gender; but a victory-shirt was always regarded as a lucky omen. Gustav Adolf was closely attached to his daughter, who admired him greatly, whereas her mother remained aloof in her disappointment at the child being a girl. Before Gustav Adolf left to efendi Protestantism in the Thirty Years' war, he secured his daughter's right to inherit the throne, in case he never returned. (He was killed in battle in November 1632.)
Her father gave orders that Christina should be brought up as a prince,[ and Christina took the oath as king, not queen, giving rise to the nickname the "Girl King". Her mother, Maria Eleonora of Brandenburg, came from the Hohenzollern family. She was a woman of quite distraught temperament, and her attempts to bestow guilt on Christina for her difficult birth, or just the horror story itself, may have prejudiced Christina against the prospect of having to produce an heir to the throne.
Christina wept for three days after her father's departure, although she was a child who rarely took to tears. Letters still exist, written by her in German to her father when she was five - school lessons were to her the highlight of her days. Her mother had fetched the king home from Germany in a coffin, opening it occasionally to pat the remains - he fell on November 6, 1632, but was not buried until June 22, 1634, more than 18 months later. His daughter, who had inherited his looks, suddenly became centre of her mother's attention. From showing her daughter complete indifference, Maria Eleonora suddenly became perversely attentive to her. Gustav Adolf had sensibly decided that his daughter, in case of his death, should be cared for by his sister, Catharina of Pfalz, who was married to count Johan Kasimir of Pfalz, and had moved home to Sweden after the outbreak of the Thirty Years' war. Christina knew the couple well; their children were Maria Eufrosyne, who later married one of Christina's close friends, and Karl Gustav, who inherited the throne after Christina. But this happy solution did not suit the queen, who had her sister-in-law banned from the castle. She herself was to bring up the child, who suffered with her mother's fits of weeping in the apartment where no daylight was permitted. The chancellor, Axel Oxenstierna, saw no other solution to this than exiling the queen to Gripsholm castle, while the governing regency council would decide when she was allowed to meet her nine-year-old daughter. This was followed by three good years, with Christina thriving in the company of her aunt Catharina and her family; but when Catharina died in 1639, Oxenstierna had her family moved out of the castle.
The nurses had carelessly dropped Christina to the floor when she was a baby. A shoulder bone broke, leaving one shoulder higher than the other for the rest of her life. Yet she was brilliant on horseback, also taking lessons in the arts of fencing and shooting. She was very mature for her age - on March 15 1633 she became queen at the age of six, and as her first official assignment received the Russian embassy, who were most impressed with the child. The king had ensured that the theologist Johannes Matthiae Gothus would be her tutor; he gave her lessons in religion, philosophy, Greek and Latin. She also learnt Swedish history as well as modern languages; her talent for languages was nothing short of unique. When the ambassador of France, Pierre Hector Chanut, arrived in Stockholm in 1645, he stated admiringly, "She talks French as if she was born in the Louvre!" Otto Sperling, who was doctor at the household ofChristian IVs daughter Eleonora Christine, met Christina in Sweden in the winter of 1653, talking with her in Italian, which he was in good command of after having lived in Italy for four years. He was overwhelmed that she, who had never even been to Italy, spoke the language like a native. 
Christina was a model student, and chancellor Oxenstierna wrote proudly of the 14-year-old girl, "She is not at all like a female", on the contrary she had "a bright intelligence" - after her father, who had studied under Galileo Galilei. Oxenstierna taught her politics. He and Gustav Adolf had used the crown's properties as payment to gentry and generals to win their loyalty, a policy which Christina would later realize came to change the power balance between king and gentry. Her greatgrandfather Gustav Vasa had converted to Protestantism, thereby increasing the crown's property with goods belonging to the Church and abbeys, so that the crown possessed 30% of Swedish land, free farmers a little over half, and gentry 20%. But in part because Gustav Adolf had continued to dole out the crown's land as a reward to gain loyalty, the gentry in Christina's time possessed almost 75% of Swedish land. 
Relationship to her mother
Maria Eleonora wrote regularly to her daughter about her and her German court wanting to leave their exile at Gripsholm castle. Christina replied tactfully, knowing that the Council would not permit the queen mother any leave. Eventually she asked to leave Sweden altogether. Christina invited her mother to Stockholm, attempting to persuade her into staying in the country; but in 1640 the queen mother fled together with her lady-in-waiting, Anna Sofia von Bülow, to Denmark in a Danish boat, and was well received by Christian IV - not that it made the demanding Maria Eleonora like Denmark any better. She wanted home to Brandenburg, in which case the electoral prince there demanded financial compensation from Sweden, where on the contrary the Council expected to withdraw her appanage as well as her properties. Finally the teenage Christina succeeded in negotiating a certain alimony for her mother, adding to this from her own purse.
By 1648 her mother returned to Sweden. Christina then bought the newly erected castle Makalös ("Unequalled") for her, close to the royal castle in Stockholm. It would have been enormously expensive, but Christina never paid. Instead she handed it back in 1652. Her mother died in 1655, the year following Christina's abdication.
Visit from Descartes
Christina's good friend, ambassador Chanut, corresponded with the philosopher René Descartes, discussing his ideas with Christina. She became interested enough to start corresponding with Descartes herself, and presently invited him to Sweden. She warned him against the winter cold, suggesting he arrive in spring or summer. Instead he arrived on October 4, 1649, and during the following months the cold climate bothered him considerably. He resided with Chanut, but with Christina's strict schedule he came to the castle library at 5:00 AM to discuss philosophy with her and librarian Johan Freinsheim. The premises were icy, and in February 1650 Descartes fell ill with pneumonia and died ten days later; Christina was distraught with guilt.
Queen regnant
In her autobiography from 1681 Christina wrote: "In my opinion, women should never reign". That is a remarkable comment from a woman who herself reigned over a country for ten years, and did it well.
The National council suggested that Christina joined the government when she was sixteen; but she asked to wait until she had turned eighteen, as her father had waited until then. In 1644 she took the throne. Her first major assignment was to conclude peace with Denmark. She did so successfully; Denmark handed the isles of Gotland and Ösel (today's Saaremaa in Estonia) over to Sweden, whereas Norway lost the districts of Jämtland and Härjedalen, which to this day have remained Swedish.
Chancellor Oxenstierna soon discovered that Christina held other political views than himself. To the peace congress in Germany in 1645 he sent his son Johan Oxenstierna, presenting the view that it would be in Sweden's best interest if the Thirty years' war continued. Christina however wanted peace at any cost, and therefore sent her own delegate, Johan Adler Salvius. Shortly before the conclusion of peace she admitted Salvius into the National council, against chancellor Oxenstierna's will and to general astonishment, as Salvius was no aristocrat; but Christina wanted opposition to the aristocracy. In 1645 Christina appointed Benedict (Baruch) Nehamias de Castro from Hamburg as her Physician in ordinary.
She knew it was expected of her to provide an heir to the Swedish throne. Her first cousin Charles was infatuated with her, and they became secretly engaged before he left in 1642 to do army service for three years in Germany. However Christina reveals in her autobiography that she felt "an insurmountable distaste for marriage"; likewise "an insurmountable distaste for all the things that females talked about and did". She slept for 3-4 hours a night and was chiefly occupied with her studies; she forgot to comb her hair, donned her clothes in a hurry and used men's shoes for the sake of convenience. However she was said to possess charm, and the unruly hair became her. Her best female friend was Ebba Sparre, whom she called Belle. She hosted Ebba's wedding with Jacob de la Gardie in 1653, but the marriage would last only five years. Ebba visited her husband in Elsinore when he was shot down and killed, and their three children all died when small. Ebba herself died in 1662, after four years of widowhood. Christina kept in touch through letters and always expressed great devotion to her friend.
On February 26, 1649, Christina made public that she had decided not to marry, but wanted her first cousin Charles as heir to the throne. Aristocracy objected to this, but the three other estates - clergy, burghers and peasants - accepted it. Coronation took place in October 1650. Christina went to the castle of Jacobsdal, today known as Ulriksdal, where she entered a coronation carriage drawn with black velvet embroidered in gold, and pulled by six white horses. The procession to Storkyrkan in Stockholm was so long that when the first carriages arrived at Storkyrkan, the last ones had not yet left Jacobsdal. All four estates were invited to dine at the castle. Fountains at the market place splashed out wine, roast was served, and illuminations sparkled. The participants were dressed up in fantastic costumes, like at a carnival.
The Crown of Sweden was hereditary in the family of Vasa, and from Charles IX's time excluding those Vasa princes who had been traitors or descended from deposed monarchs. Gustav Adolf's younger brother had died years earlier, and therefore there were only females left. Despite the fact that there were living female lines descended from elder sons of Gustav I Vasa, Christina was the heiress presumptive. Although she is often called "queen", her father brought her up as a prince and her official title was King. As ruler, Christina resisted demands from the other estates (clergy, burgesses and peasants) in the Riksdag of the Estates of 1650 for the reduction of tax-exempt noble landholdings. Several princes of Europe aspired to her hand; but she rejected them all.
Christina was interested in theatre and ballet; a French ballet-troup under Antoine de Beaulieu was employed by the court from 1638, and there were also an Italian and a French Orchestra at court, which all inspired her much. She invited foreign companies to play at Bollhuset, such as an Italian Opera troupe in 1652 and a Dutch theatre troupe in 1653; she was also herself an amateur-actress, and amateur-theatre was very popular at court in her days. Her court poet Georg Stiernhielm wrote her several plays in the Swedish language, such as Den fångne Cupido eller Laviancu de Diane performed at court with Christina in the main part of the goddess Diana. She founded the dance order Amaranterordern in 1653.
Religion
Christina remained all her life very tolerant towards the beliefs of others. Her tutor, Johannes Matthiae, stood for a gentler attitude than most Lutherans. In 1644 he suggested a new church order, but was voted down, as this was interpreted as Calvinism. Christina who by then had become queen, defended him against the advice of chancellor Oxenstierna, but three years later the proposal had to be withdrawn. In 1647 the clergy wanted to introduce Konkordieboken, a book defining correct Lutheranism versus heresy, making free theological thinking an impossibility. Matthiae was strongly opposed to this, and again was backed by Christina. Konkordieboken was not introduced.
When Louis XIV withdrew the 1598 edict of Nantes, so that French Protestants again became victims of persecution, she wrote an indignant letter, dated February 2, 1686, directed at the French ambassador. The Sun King did not approve of this, but Christina was not to be silenced.
In Rome she made Pope Clement X prohibit the custom of chasing Jews through the streets during the carnival. On August 15, 1686, she issued a declaration that Roman Jews were under her protection, signed la Regina - the queen.
As a young queen, she herself had been under enormous pressure, ruling a Protestant country while she herself was a secret Catholic. In August 1651 she asked the Council permission to abdicate, but gave in to their pleas for her continuation. She had long conversations with Antonio Macedo, interpreter for Portugal's ambassador. He was a Jesuit, and in August 1651 smuggled with him a letter from Christina to the Jesuit general in Rome. In reply to her letter, two Jesuits came to Sweden on a secret mission in the spring of 1652, disguised as gentry and using false names. She had more conversations with them, being interested in the Catholic views on rationality and free will.
All this secrecy wore her out so much that she turned ill. In February 1652 the French doctor Pierre Bourdelot arrived in Sweden. Unlike most doctors of that time he held no faith in blood-letting; instead he ordered sufficient sleep, warm baths and healthy meals, as opposed to Christina's hitherto ascetic way of life. She was only 25 and should take pleasure in life. Plays had always interested her, especially Corneille with his emphasis on heroism. Bourdelot attached artists to the Swedish court, which gradually became a centre of culture.
Abdication
Christina abdicated her throne on 5 June 1654 in favor of her cousin Charles Gustavus in order to either practice openly her previously secret Catholicism, or to accept the same publicly so as to be at the center of a scientific and artistic renaissance. The sincerity of her conversion has been questioned. In 1651, the Jesuit Paolo Casati had been sent on a mission to Stockholm in order to gauge the sincerity of her intention to become Catholic.
Her conversion was however not the only reason for her abdication, as there was increasing discontent with, in the words of her critics, her arbitrary and wasteful ways. Within ten years she had created 17 counts, 46 barons and 428 lesser nobles; to provide these new peers with adequate appanages, she had sold or mortgaged crown property representing an annual income of 1,200,000 riksdaler. There were clear signs that Christina was growing weary of the cares of what remained a provincial government in spite of a large conquered territory.
During the abdication ceremony at Uppsala castle, Christina wore her regalia, which was removed from her, one by one; but Per Brahe, who was supposed to remove the crown, did not move, so she had to take the crown off herself. Dressed in a simple white taffeta gown she held her farewell speech with a faltering voice, thanked everyone and left the throne to Charles X, who was dressed in black. Per Brahe felt that she "stood there as pretty as an angel".
Financially she was secured through revenue from Norrköping town, the isles of Gotland and Ösel, estates in Pomerania as well as other places. She left Sweden in the summer of 1654, changed to a man's clothes on the Danish border, and rode as a man through Denmark. Relations between the two countries were still so tense that a former Swedish queen could not have traveled safely in Denmark.
In August she arrived in Antwerp, which at that time was under Spanish control. In her honour parties were held; ambassador Chanut came, as well as the former governor of Norway, Hannibal Sehested. On December 24, 1654, she converted to Catholic faith in archduke Leopold's chapel in Brussels. She dared not state this in public though, in case the Swedish council might then refuse to pay her alimony. On top of this, Sweden was preparing war against Pomerania, which meant that her income from there was considerably reduced. The pope and Philip IV of Spain could not support her openly either, as she was not publicly a Catholic yet. Instead she succeeded in arranging a major loan, so that she could travel to Italy with her entourage of 255 persons and 247 horses. The duke of Tyrol was almost ruined by her visit.
The pope's messenger, the librarian Lucas Holstenius, met her in Innsbruck. He himself had converted. On November 3, 1655, Christina converted in the church at Innsbruck castle, and wrote Pope Alexander VII and her cousin Charles X about it. Now there was no going back.
Political contributions
The importunity of the senate and Riksdag on the question of her marriage was a constant source of irritation. In retirement she could devote herself wholly to art and science, and the opportunity of astonishing the world by the unique spectacle of a great king, in the prime of life, voluntarily resigning her crown, strongly appealed to her vivid imagination. It is certain that towards the end of her reign she behaved as if she were determined to do everything in her power to make herself as little missed as possible. From 1651 there was a notable change in her behavior. She cast away every regard for the feelings and prejudices of her people. She ostentatiously exhibited her contempt for the Protestant religion. Her foreign policy was flighty to the verge of foolishness. She contemplated an alliance with Spain, a state quite outside the orbit of Sweden's influence, the first fruits of which were to have been an invasion of Portugal. She utterly neglected affairs in order to plunge into a whirl of dissipation with her foreign favorites. The situation became impossible, and it was with an intense feeling of relief that the Swedes saw her depart, in masculine attire, under the name of Count Dohna
Setting off to Rome
The southbound journey through Italy was planned in detail by the Vatican and a brilliant triumph. In Pesaro Christina got acquainted with the two brothers Santinelli, who so impressed her with their poetry and adeptness of dancing that she took them into service. On December 20 she reached the Vatican, the last distance in a sedan chair designed by Bernini. She was granted her own wing inside the Vatican, and when the pope spotted the inscription symbolizing the northern wind, Omne malum ab Aquilone (meaning "all evil comes from the North"), he ensured that it was rapidly covered with paint.
The entry into Rome proper took place on December 23, on horseback through Porta Flaminia, which today is known as Porta del Popolo. Bernini had decorated the gate with Christina's arms (an ear of corn) beneath that of pope Alexander (six mountains with a star above). Also today one can read the inscription Felici Faustoq Ingressui Anno Dom MDCLV ("to a happy and blessed entry in the year 1655"). Christina met Bernini some days later, and they became lifelong friends. She often visited him at his studio, and on his deathbed he wanted her to pray for him, as she used a language that God would understand.
In St Peter's basilica she knelt in front of the altar, and on Christmas Day she received the sacrament from the pope himself. In his honour she took the additional names Alexandra Maria - Alexandra not only after the pope, but also in honour of her great hero, Alexander the Great. Her status as the most notable convert to Catholicism of the age, and as the most famous woman at the time, made it possible for her to ignore or flout the most common requirements of obeisance to the Catholic faith. She herself remarked that her Catholic faith was not of the common order; indeed, before converting she had asked church officials how strictly she would be expected to obey the church's common observances, and received reassurances. She respected the pope's position in Church, but not necessarily his acts as an individual; she once commented on this to one of his servants. The papal summer residence at that time was the Quirinal Palace, located on Monte Cavallo (literally "Horse mountain"). Christina stated that Monte Cavallo might rather be named Monte degli Assisi ("Donkey mountain"), as she had never met a pope with common sense during her 30 years in Rome. Christina's visit to Rome was the triumph of Pope Alexander VII and the occasion for splendid Baroque festivities. For several months she was the only preoccupation of the Pope and his court. The nobles vied for her attention and treated her to a never-ending round of fireworks, jousts, fake duels, acrobatics, and operas. At the Palazzo Aldobrandini, where she was welcomed by a crowd of 6,000 spectators, she watched in amazement at the procession of camels and elephants in Oriental garb, bearing towers on their backs.
Christina settled down in Palazzo Farnese, which belonged to the duke of Parma, just opposite the church of Saint Birgitta, another Swedish woman who had made Rome her home. Christina opened an academy in the palace on January 24, 1656, called Arcadia, where the participants enjoyed music, theatre, literature and languages. Every Wednesday she held the palace open to visitors from the higher classes who could enjoy all its works of art. Belonging to the Arcadia-circle was also Francesco Negri, a Franciscan from Ravenna who is regarded the first tourist of North Cape. Negri wrote eight letters about his walk through Scandinavia all the way up to "Capo Nord" in 1664. Another Franciscan was the Swede Lars Skytte, who, under the name pater Laurentius, served as Christina's confessor for eight years. He too had been a pupil of Johannes Matthiae, and his uncle had been Gustav Adolf's teacher. As a diplomat in Portugal he had converted, and asked for a transfer to Rome when he learnt of Christina's arrival. She on her part felt more attracted to the Spanish priest Miguel Molinos, who had been persecuted by the Holy Inquisition due to his teachings, which were inspired by the mysticTeresa of Avila - the one Christina's friend Bernini had immortalized in the statue Saint Teresa, which stands in the church of Santa Maria della Vittoria in Rome.
However the arranged appanage from Sweden did not materialize; Christina lived from loans and donations. Her servants burnt the doors to heat the premises; and the Santinelli brothers sold out works of art that came with the palace. The damage was explained away with the staff not being paid. 
29-year-old Christina gave occasion to much gossip when socializing freely with men her own age. One of them was Cardinal Decio Azzolino, who had been a secretary to the ambassador in Spain, and responsible for the Vatican's correspondence with European courts. He was also the leader of the Squadrone Volante, the free thinking "Flying Squad" movement within the Catholic Church. Christina and Azzolino were so close that the pope asked him to shorten his visits at her place; but they remained lifelong friends. In a letter to Azzolino Christina writes in French that she would never offend God or give Azzolino reason to take offence, but this "does not prevent me from loving you until death, and since piety relieves you from being my lover, then I relieve you from being my servant, for I shall live and die as your slave." His replies were more reserved. Christina wrote him many letters during her travels; about 50 of these have survived. They were written in a code that was decrypted by Baron Carl Bildt, ambassador of Norway and Sweden in Rome around 1900.
At times, things got a bit out of hand. On one occasion the couple had arranged to meet at Villa Medici near Monte Pincio, but the cardinal did not show up. Christina hurried over to Castel Sant'Angelo, firing one of the cannons. The mark in the bronze gate in front of Villa Medici is still visible. 
Having run out of money and surfeited with an excess of pageantry, Christina resolved, in the space of two years, to visit France. Here she was treated with respect by Louis XIV, but the ladies were shocked with her masculine appearance and demeanor and the unguarded freedom of her conversation. When visiting the ballet with la Grande Mademoiselle, she, as the latter recalls, "surprised me very much - applauding the parts which pleased her, taking God to witness, throwing herself back in her chair, crossing her legs, resting them on the arms of her chair, and assuming other postures, such as I had never seen taken but by Travelin and Jodelet, two famous buffoons... She was in all respects a most extraordinary creature".
The Monaldeschi murder
Spain at that time ruled Milan, Sicily and the kingdom of Naples. The French politician Mazarin, an Italian himself, had attempted to liberate Naples from the Spanish rule against which the locals had fought; but an expedition in 1654 had failed in this. Mazarin was now considering Christina as a possible queen for Naples. The locals wanted no Italian duke on the throne; they would prefer a French prince. In the summer of 1656 Christina set sail for Marseille and from there travelled to Paris to discuss the matter. Officially it was said that she was negotiating her alimony arrangement with the Swedish king.
On September 22, 1656 the arrangement between her and Louis XIV was ready. He would recommend Christina as queen to the Napolitans, and serve as guarantee against Spanish aggression. On the following day she left for Pesaro, where she settled down while waiting for the outcome of this. As Queen of Naples she would be financially independent of the Swedish king, and also capable of negotiating peace between France and Spain.
Mazarin however found another arrangement to ensure peace; he strengthened this with a marriage arrangement between Louis XIV and his first cousin, Maria Theresa of Spain - the wedding took place in 1660. But this was unknown to Christina, who sent different messengers to Mazarin to remind him of their plan. In the summer of 1657 she herself returned to France, officially to visit the papal city of Avignon. In October, apartments were assigned to her at Fontainebleau, where she committed an action which has indelibly stained her memory - the execution of marchese Gian Rinaldo Monaldeschi, her master of the horse. Christina herself wrote her version of the story for circulation in Europe.
Through two months, she had suspected Monaldeschi and secretly seized his correspondence, which revealed that he had betrayed her interests and put the blame on an absent member of court. Now she summoned Monaldeschi into a gallery at the palace, discussing the matter with him. He insisted that betrayal should be punished with death. She held the proof of his betrayal in her hand and so insisted that he had pronounced his own death sentence. Le Bel, a Father who stayed at the castle, was to receive his confession in the Galerie des Cerfs. He entreated for mercy, but was stabbed by two of her domestics in an apartment adjoining that in which she herself was. Wearing a coat of mail which is now on exhibit outside the gallery, he was chased around the room for hours before they succeeded in dealing him a fatal stab. Le Bel who had begged on his knees that they spare the man, was told to have him buried inside the church, and Christina, seemingly unfazed, paid the abbey to hold masses for his soul. She "was sorry that she had been forced to undertake this execution, but claimed that justice had been carried out for his crime and betrayal. She asked God to forgive him," writes Le Bel.
Mazarin advised Christina to place the blame on Santinelli and dismiss him, but she insisted that she alone was responsible for the act. She wrote Louis XIV about the matter, and 2 weeks later he paid her a friendly visit at Fontainebleau without mentioning it. In Rome, people felt differently. Monaldeschi had been an Italian nobleman, murdered by a foreign barbarian with Santinelli as her executioner. The letters proving his guilt are gone; Christina left them with Le Bel on the day of the murder, and he confirmed that they existed. She never told what was in the letters.
The killing of Monaldeschi was legal, since Christina had judicial rights over the members of her court, as her vindicator Gottfried Leibniz claimed. As her contemporaries saw it, Christina as queen had to emphasize right and wrong, and her sense of duty was strong. Her regarding herself queen regnant lasted all of her life. When her friend Angela Maddalena Voglia was sent to an abbey by the pope, to remove her from an affair with a cardinal at Sacro Collegio, Angela succeeded in escaping from the monastery and went into hiding at Christina's, where she was assaulted and raped by an abbot. Understandably, Christina was most upset that this could happen to someone under her roof, and demanded to have the abbot executed, but he managed to escape.  While still in France, she would gladly have visited England, but she received no encouragement from Cromwell. She returned to Rome and resumed her amusements in the arts and sciences.
Back to Rome
On May 15 1658, Christina arrived in Rome for the second time, but this time it was definitely no triumph. Her popularity was lost with her execution of Monaldeschi. Alexander VII remained in his summer residence and wanted no further visits from this woman he now referred to as a barbarian. She stayed at the Palazzo Rospigliosi, which belonged to Mazarin, situated closely to the Quirinal Palace; so the pope was enormously relieved when in July 1659 she moved to Trastevere to live in Palazzo Corsini, in those days known as the Riario Palace, designed by Bramante, and from the late 1500s the home of the Sforza family. It was cardinal Azzolino who signed the contract, as well as providing her with new servants to replace Francesco Santinelli, who had been Monaldeschi's executioner and also had stolen from Christina's property for years.
The Riario Palace became her home for the rest of her life. She decorated the walls with paintings, mainly from the Renaissance; no Roman collection of art could match hers. There were portraits of her friends Azzolino, Bernini, Ebba Sparre, Descartes, ambassador Chanut and the doctor Bourdelot. Azzolino ensured that she was reconciled with the pope, and that the latter granted her a pension.
Revisiting Sweden
In April 1660 Christina was informed that Charles X had died in February. His son, Charles XI, was only five years old. In summer she went to Sweden, pointing out that she had left the throne to her first cousin and his descendant, so if Charles XI died, she would take over the throne again. But as a Catholic she could not do that, and the clergy refused to let her hold Catholic masses where she stayed. After some weeks in Stockholm she found lodgings in Norrköping town, which was her area. Eventually she submitted to a second renunciation of the throne, spending a year in Hamburg to get her finances in order on her way back to Rome. She left her income to the bankier Diego Texeira - his real, Jewish name being Abraham - in return for him sending her a monthly allowance and covering her debts in Antwerp. She visited the Texeira family in their home and entertained them in her own lodgings, which at that time was unusual in relation to Jews.
In the summer of 1662 she arrived in Rome for the third time, followed by some fairly happy years. Some differences with the Pope made her resolve in 1667 once more to return to Sweden; but the conditions annexed by the senate to her residence there were now so mortifying that she proceeded no farther than Hamburg. There she was informed that Alexander VII had died. The new pope, Clement IX, had been a regular guest at her palace. In her delight at his election she threw a brilliant party at her lodgings in Hamburg, with illuminations and wine in the fountain outside. However she had forgotten that this was Protestant land, so the party ended with her escaping through a hidden door, threatened by stone throwing and torches. The Texeira family had to cover the repairs. 
Home to Rome and death
Christina's fourth and last entry in Rome took place on November 22, 1668. As in 1655 she rode through Porta del Popolo in triumph. Clement IX often visited her; they had a shared interest in plays, and Christina established Rome's first public theatre in a former jail, Tor di Nona, which now belonged to an order of monks. When the pope suffered a stroke in late 1669, she was among the few he wanted to see at his deathbed. On December 9 he died, and the new pope, Clement X, worried about the influence of theatre on the moral. When Innocent XI became pope, things turned even worse; he made Christina's theatre into a storeroom for grain, although he had been a frequent guest in her royal box with the other cardinals. He also forbade women to perform with song or acting, and the wearing of decolleté dresses. Christina considered this sheer nonsense, and let women perform in her palace. In her basement there was a laboratory, where she and Azzolino experimented with alchemy. She also wrote - an autobiography, essays on her heroes Alexander the Great and Julius Cæsar, as well as corresponding with the learned around Europe, and acting as patron to musicians such as Arcangelo Corelli, who dedicated his first work, Sonata da chiesa opus 1, to her, and Alessandro Scarlatti.
In February 1689 the 62-year-old Christina fell seriously ill, receiving the last rites. Pope Alexander VIII was too ill to pay her a visit, but sent his regards. She seemed to recover, but in the middle of April she got pneumonia and a high fever. On her deathbed she sent the pope a message if he could forgive her insults - which he could. Cardinal Azzolino stayed at her side until it was over. She died on 19 April, 1689.
Burial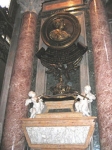 Christina had asked for a simple burial, but the pope insisted on her being displayed on a lit de parade for four days in the Riario Palace. She was embalmed, covered with white brocade, a silver mask, a gilt crown and scepter. Her body was placed in three coffins - one from cypress, one from lead and finally one made from oak. The funeral procession led from Santa Maria in Valicella to St. Peter's Basilica, where she was buried within the papal grottoes - only one of three women ever given this honour. Her intestines were placed in a high urn.
In 1702 Clement XI commissioned a monument for the queen, in whose conversion he vainly foresaw a return of her country to the Faith and to whose contribution towards the culture of the city he looked back with gratitude. This was placed in the body of the basilica and led by the artist Carlo Fontana. Christina was portrayed on a gilt and bronze medallion, supported by a crowned skull. Three reliefs below represnted her relinquishment of the Swedish throne and abjugation of protestantism at Innsbruck, the scorn of the nobility, and faith triumphing over heresy. It is an unromantic likeness, for she is given a double chin and a prominent nose with flaring nostrils.
Christina had named Azzolino her sole heir to make sure her debts were settled, but he was too ill and worn out even to join her funeral, and died in June the same year. His nephew, Pompeo Azzolino, was his sole heir, and he rapidly sold off Christina's art collections. Her large and important library, originally amassed as war booty by her father Gustav Adolf from throughout his European campaign, was bought by Alexander VIII for the Vatican library, while most of the paintings ended in France,  as the core of the Orleans Collection - a good number remain together in the National Gallery of Scotland. Among others,Titian's Venus Anadyomene originally was in the possession of Queen Christina. Her collection amounted to ca 300 paintings. At first, removing them from Sweden was seen as a great loss to the country; but in 1697 Stockholm castle burnt down, where they would have been destroyed. Venus mourns Adonis by Paolo Veronese, was war booty from Prague, sold by Azzolino's nephew and eventually ended in Stockholm's National Museum.
Personal relationships
Christina resolutely refused to marry, despite pressure from her counsellors to fulfil her duty and give Sweden an heir. Her attitude to marriage was critical, 'Marriage is as good as incompatible with love'. Rumours amongst contemporaries were that she was lesbian. Part of this was no doubt fuelled by a degree of cross-dressing, with her clothing a mix between masculine and feminine styles - although she argued she wore men's shoes for reasons of convenience. Some believed her to have been intersexed, and in 1965 this led to an investigation of her mortal remains which showed she had a typical female body. Dr Carl-Herman Hjortsjö read the autopsy report on her, written the day after her death, and noted it mentioned nothing about atypical genitalia, so the rumours seem to have had little physical foundation.
Christina sat, talked, walked and moved in a manner her contemporaries described as masculine. She preferred men's company to women's unless the women were very beautiful, in which case she courted them. Likewise she enjoyed the company of other educated women, regardless of their looks. The noted passion of Christina's youth was her lady in waiting. Countess Ebba Sparre. Most of her spare time was spent with 'la belle comtesse' - and she often called attention to her beauty. She introduced her to the English ambassador Whitelocke as her 'bed-fellow', assuring him that Sparre's intellect was as striking as her body. When Christina left Sweden she continued to write passionate love-letters to Sparre, in which she told her that she would always love her. However, such emotional letters were relatively common at that time, and Christina would use the same style when writing to women she had never met, but whose writings she admired.Later, when in Rome, she formed a close relationship with Cardinal Azzolino.
Legacy
The complex character of Christina has inspired numerous plays, books, and operatic works. August Strindberg's 1901 play Kristina depicts her as a protean, impulsive creature. "Each one gets the Christina he deserves," she remarks. The Finnish author Zacharias Topelius' historical allegoryStjärnornas kungabarn also portrays her, like her father, as having a mercurial temperament, quick to anger, quicker to forgive. Kaari Utrio has also portrayed her tormented passions and thirst for love.
Christina's life was famously fictionalised in the classic feature film Queen Christina from 1933 starring Greta Garbo. This film, while entertaining, had almost nothing to do with the real Christina. Another feature film, The Abdication, starred the Norwegian actress Liv Ullmann, and was based on a play by Ruth Wolff.
Christina has become an icon for the lesbian and feminist communities (and inspired comedian Jade Esteban Estrada to portray her in the solo musical ICONS: The Lesbian and Gay History of the World (Vol. 2). Her cross-dressing has also made her a posthumous icon of the modern transgendered community. Finnish author Laura Ruohonen wrote a play about her called "Queen C", which presents a woman centuries ahead of her time who lives by her own rules. Raised as a boy and known by the nickname "Girl King", she vexes her contemporaries with unconventional opinions about sexuality and human identity, and ultimately abdicates the throne. First performed at the Finnish National Theatre in 2002, the play has since been translated into nine languages and staged internationally. The play has been performed at the Royal National Theatre in Sweden, as well as in Australia, Czech Republic, Netherlands, Germany and USA, and as a stage reading in many other countries.
The Swedish settlement Fort Christina and the Christina River in North America (in present-day Delaware) were named in her honour.