The euro is used in 16 EU countries. Find out more about the euro, the exchange rates of other currencies, withdrawing moneyand carrying cash.
---
The euro is the legal tender for more than 325 million people in 16 EU countries. The symbol for the euro is €.
The euro notes are identical in all countries but each country issues its own coins with one common side and one side displaying a distinctive national emblem. All the notes and coins can be used in all EU countries that have adopted the euro, including many of their overseas entities, such as the Azores, the Canaries, Ceuta and Melilla, French Guiana, Guadeloupe, Madeira, Martinique, Mayotte, Réunion, and Saint Pierre and Miquelon.
Monaco, San Marino and Vatican City have adopted the euro as their national currency which also gives them the right to issue a certain number of euro coins with their own national sides. A number of countries and territories use the euro as their de facto currency such as Andorra, Kosovo and Montenegro.
Denmark, Sweden and the United Kingdom do not currently use the euro. Slovakia joined the euro area in January 2009 and the eight other countries that have entered the EU since 2004 are committed to adopting the euro when they are ready.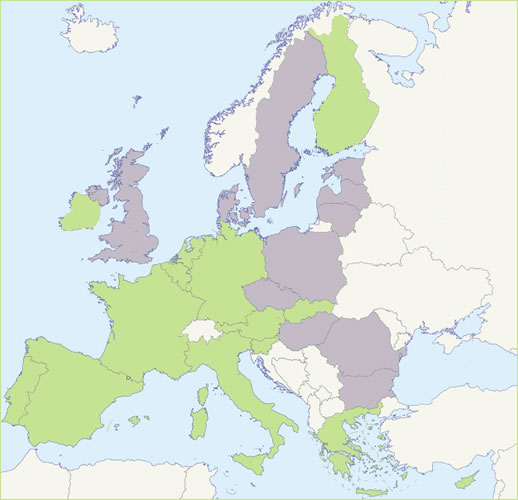 EU countries using the euro: Austria, Belgium, Cyprus, Finland, France, Germany, Greece, Ireland, Italy, Luxembourg, Malta, the Netherlands, Portugal, Slovakia, Slovenia and Spain

 EU countries not using the euro.
Exchange rates
Rates will vary, but in September 2008 one euro bought approximately:
Country

Currency

Exchange rate

Bulgarian lev
1.95
Czech koruna
26.6
Danish krone
7.45
Estonian kroon
15.6
British pound sterling
0.97
Hungarian forint
266
Lithuanian litas
3.45
Latvian lats
0.70
Polish zloty
4.14
Romanian leu
4.02
Swedish krona
10.95

---

Chinese renminbi-yuan
9.63
Indian rupee
67
Japanese yen
127
Rouble
41
US dollar
1.41
The latest exchange rates can be found at the European Central Bank website and there is a handy currency converter to help with calculations. In European countries outside the euro area many hotels, shops and restaurants, particularly in tourist areas, accept payment in euro as well as the national currency, although they are not legally obliged to do so.
Withdrawing money
Thanks to EU rules, withdrawing euro from a cash machine, making a card payment or a bank transfer in euro (up to €50 000) now costs you the same anywhere in the EU as it would cost you in your own country. These rules also apply to transactions on euro accounts in countries outside the euro area and to payments in Swedish krona.
The European banking industry, supported by the EU, is creating a Single Euro Payments Area to make all electronic payments across the euro area, whether by credit card, debit card, bank transfer or direct debit, as easy as a domestic payment.
Carrying cash
You can enter or leave the EU with up to €10 000 in cash without declaring it. Any larger amount of cash has to be declared to the customs authorities. These cash controls are aimed at fighting money-laundering and other criminal activities. Some member states apply cash controls to those travelling between EU countries.