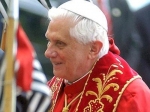 Pope Benedict XVI is to release a CD of songs, prayers and music in time for Christmas, the Vatican said Friday.
The CD is to be released on the Geffen UK label, whose parent company Interscope-Geffen-A&M is better known for stars such as Eminem, Guns N` Roses and the Pussycat Dolls.
But the pontiff did not spend time in a recording studio laying down tracks for the album, the Vatican was quick to explain.
---
Vatican Spokesman Federico Lombardi said Benedict`s songs and prayers were taken from the archives of Vatican Radio and the pope had had no direct relationship with the record label.
Lombardi said Vatican Radio had made available eight tracks of the pope giving sermons and prayers in different languages for a total of ten minutes, which Geffen Records have mixed to music.
According to British daily The Guardian, Benedict will be singing a Marian prayer and reciting litanies in Italian, Portuguese, French and German to the accompaniment of eight pieces of modern classical music specially composed for the album.
The paper said the CD would be entitled Alma Mater and would be released on November 30 ``in time for the Christmas rush``, while some profits would go to children`s charities.
Benedict`s predecessor, John Paul II, also released a similar CD, consisting of him singing chants and reciting prayers over various musical backgrounds.
The album, Abba Pater, sold a million copies in three days when it was released in 1999.