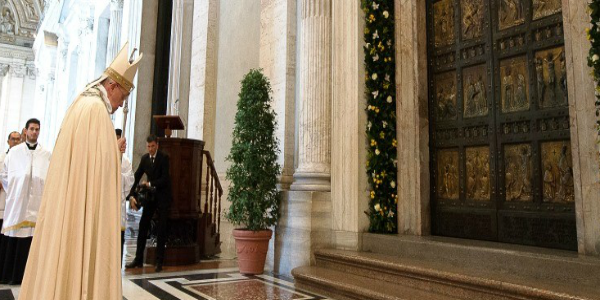 The opening Mass for the Jubilee of Mercy and the opening of the Holy Door at St. Peter's Basilica on 8 December will be seen around the world in greater clarity than any other Papal event in history.
The Centro Televisivo Vaticano (CTV — Vatican Television Centre) has announced a major overhaul of the equipment used for its live footage capture, and the opening event of the Jubilee will be broadcast for the first time in ULTRA HD and 4K.
CTV's OB-8 OB truck has been fully kitted out with 4K technology and will feature eight Sony HDC-4300 cameras, a 4K PWS-4400 server and a 4K MVS-7000X switcher.
This will create an "immersive experience", which tries to capture, deliver and display images in a way that is as close to the performance of the human eye as possible.
The technology was discussed at a press conference on Tuesday attended by Monsignor Dario E. Viganò, Prefect of the Secretariat for Communications for the Holy See, and long-time head of CTV.
"CTV's mission is to document all of the activities of the Pope and the Holy See and then offer a service that draws television broadcasters from all over the world," Msgr. Viganò said.
"This requires the highest attention to quality and the need to keep up to date with the latest and most advanced technologies" – he continued - "HDR's ability to capture reality just as our eyes see it has certainly provided followers and viewers from around the world with a great opportunity to be part of the events of the Holy Father in an even more immersive and engaging way."