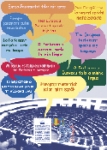 In the European Parliament, all Community languages are equally important: all parliamentary documents are published in all the official languages of the European Union (EU) and every MEP has the right to speak in the official language of his/her choice. What better way to guarantee the transparency and accessibility of Parliament's work for all members of the general public.
---
Firmly rooted in the European treaties, multilingualism is the reflection of the cultural and linguistic diversity of the European Union. It also makes the European institutions more accessible and transparent for the general public, which constitutes a guarantee for the success of the EU's democratic system.
The European Parliament differs from the other EU institutions through its obligation to ensure the highest possible degree of multilingualism. All EU citizens must be able to refer to legislation directly concerning them in the language of their country. Furthermore, since every European citizen has the right to stand for election to the European Parliament, it is unreasonable to require Members to have a perfect command of one of the common languages. The right of each Member to read parliamentary documents, to follow debates and to speak in his/her own language is expressly recognised in Parliament's Rules of Procedure. In addition, in its role as legislator the European Parliament is obliged to guarantee that the linguistic quality of all the laws which it adopts is beyond reproach in all official languages.
The Treaty provisions also allow all European citizens to follow Parliament's work, to ask questions and to receive replies in their own language.