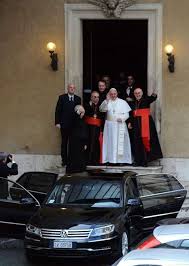 Pope Francis, elected in the conclave Wednesday evening, made his first and officially unscheduled visit to the Rome Basilica of Saint Mary Major early Thursday, surprising residents and children on their way to a nearby school.
The Pope was accompanied by Prefect of the Papal Household, Msgr. George Gaenswein and Vice Prefect Leonardo Sapienza.
In his address to the tens of thousands of people gathered in Saint Peter's Square for his election Wednesday evening, Pope Francis called for prayers to Our Lady and said he was going to "go pray to the Madonna so that she may protect Rome".
Pope Francis remained about half an hour in prayer at the basilica's altar of the Virgin Mary. The Basilica is one of Rome's most important Marian shrines.