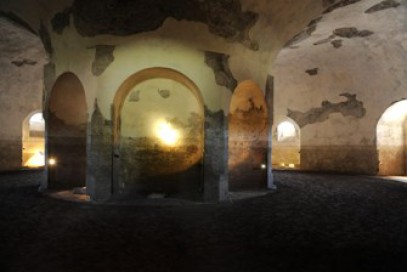 The restored tomb it is thought to have been the burial place of Maxentius' son Valerio Romulus, who died prematurely in 309, he is said to have drowned in the Tiber — he was buried in the mausoleum.
Maxentius was the 58th emperor of the Roman empire between 306 and 312 AD.
The tomb was part of a large imperial complex that included Maxentius' palace and a circus for chariot racing. Little of the palace is still standing, while the mausoleum has lost its second level but is still an impressive structure, inside and out. It is surrounded by a quadroporticus on the outside with its main entrance on the Via Appia and two smaller entrances facing the palace and 1640 feet long (500 meters) long Circus.
It is the best preserved circus of its kind, with pieces of all its major architectural components extant. Two of its gate towers have survived, as have the remains of the starting gates, the spina (the central median around which the chariots turned), and a triumphal arch. It's also the second largest circus after the Circus Maximus at 500 meters (1640 feet) long and 90 meters (295 feet) wide. There was room in the stands for as many as 10,000 spectators to watch the races.
The reopening of the mausoleum of Romulus can certainly be considered another step towards realizing Rome's most ambitious aim: creating the world's biggest archaeological park, stretching from the slopes of the Capitoline hill in central Rome down to the Appian way.
The restoration of the tomb was part of a broader facelift at the site costing a total of 873,000 euros.