Here's a helpful insight to keep you informed
As we strive to make your trip to Italy stress-free and safe, it is helpful to be up to date with the travel and local health guidelines. Most of European countries are now developping a common path to safe and sustained re-opening, through vaccine certificate called Digital Green Certificate, mistakenly called "vaccine passport".
International travel slowed to a crawl in 2020, providing us with the chance to reset and to start thinking how things can be better and improved. In response to the changed world we've elevated our wellbeing and safety protocols so you can be confident that we operate clean and hygienic tour experience. What hasn't changed, is the fact that you'll still enjoy the same ease of having all your essentials taken care of and the flexibility to tailor your own trip.
IS IT SAFE TO TRAVEL TO ITALY?
The coronavirus pandemic won't last forever. The COVID-19 vaccination campaign in Italy of a mass immunization started on December 27th, 2020, together with most countries in the European Union. Italy is pushing ahead rapidly, more than many other EU Countries.
The country however has extended its state of emergency until April 30th, 2021, and entry from abroad remains heavily restricted. Entry from most of Europe is allowed but persons arriving from these countries must report to the local health authorities on arrival and provide a negative COVID-19 test result taken within 48 hours. They are also required to fill in a self-declaration form. Arrivals from the United Kingdom (other than Italian residents) are banned indefinitely, and nobody (other than Italian residents) who has been in or transited through Brazil in the last 14 days may enter Italy. In addition, flights to and from Brazil have been banned.
So, as vaccination efforts are successful and the coronavirus pandemic eases, we believe the second half of 2021 could be a great time to visit Italy, also thanks to smaller crowds as visitors slowly trickle back to popular tourism sites.
Please note that as information can change quickly particularly with respect to different country advisories please check your own government travel advisories and call the Italian embassy in your country for specific information relating to your unique circumstances. Please find the links to these sources below, at the end of this page.
WILL VACCINATIONS MAKE VACATIONS POSSIBLE AGAIN?
Leaders from the European Union's (EU) 27-member decided to introduce a uniform vaccination certificate for travelers by the summer, and they are looking at whether people could be a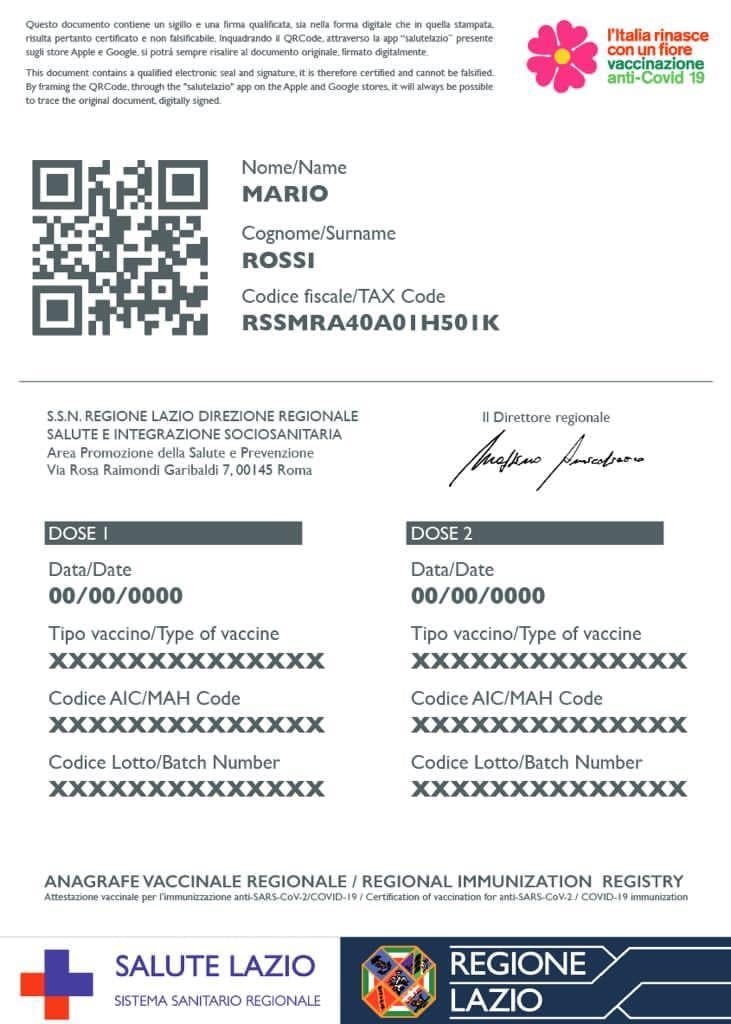 sked to prove their Covid status with a "vaccine passport". On March 17th, 2021, the European Commission presented a proposal to create a Digital Green Certificate to facilitate the safe free movement of citizens within the EU during the COVID-19 pandemic. This would allow anyone vaccinated against Covid, or who has tested

negative, or recent
y recovered from the virus, to travel within the region. it should be in place before the summer tourist seaso
In Italy, anyone who has had a coronavirus injection receives a vaccination card, and the details go on their medical records. The digital version can be stored on a mobile device. Citizens can also request a paper version. Both will have a QR code that contains essential information, as well as a digital seal to make sure the certificate is authentic.
WE ARE COMMITTED TO YOUR WELL-BEING AND SAFETY
We have all adapted to this new normal, where it's imperative for us to take additional measures to stay healthy.
Your well-being and safety have always been our top priority and with our approach outlined below, you can have peace of mind that when you travel with us you are in real good hands.
That's why you can tour Italy with us reassured that we have numerous new measures in place to elevate our hygiene standards and protocols, including the services of our specially trained Local Guides and Drivers who have been trained with the latest health authority and local government guidelines to enhance hygiene and distancing standards.
With over 30 years in the travel business, we are today a very stable guided tour company, despite the current difficult circumstances caused by the pandemic.
We understand your concerns in these uncertain times, to therefore reassure you, we are happy to share with you an insight of the steps we've taken to give you inner peace, so that you can travel again without a worry and have the most amazing time.
QUALITY EXPERIENCE
Quality checks will ensure that all our suppliers meet local regulations and the established WTTC and WHO well-being protocols:
Hygene Equipment
Hand sanitiser is accessible and freely available. We ask that you bring your own face mask and gloves, but in the case of emergency, personal protective equipment can be distributed to you upon request.
Sanitised surfaces
All frequently touched surfaces inside your private chauffeured vehicle and limos — including handrails, doors, will be disinfected multiple times each day.
Priority VIP accesses
With priority access at landmark sites and special venues, you skip the queues and have greater opportunity to maintain your physical distance while sightseeing.
We were already specialized in private and small groups before the pandemic. Now more than ever, a private tour is the ideal choice. Private and customized tours makes it easier to maintain a comfortable physical distance and managing the best times to visit the sights, away from the crowds.
As private tours specialists, we are perfectly suited for these unusual times as we take care of absolutely everything, so you can simply relax to enjoy your holiday.
PERSONAL ASSISTANCE BEFORE AND DURING THE TOUR
In addition to your private on the road guide, you will be granted a 24/7 support before the tour date, and once on tour we will be taking all the necessary precautions.
We are here to answer any questions you might have, whether via phone or email. From dreaming, to planning, to booking, we're with you every step of the way.
We only ask that you please take personal responsibility for your well-being. This begins with packing any personal protective equipment and sanitisers you require. Please adopt physical distancing and hygiene practices throughout your pre-tour travel arrangements and follow all health instruction whether physical signage.
Times have changed. The world has changed. But our passion and dedication to touring has remained unchanged. Although our standards have always been exceptionally high, we have elevated our protocols to help our guests plan, book and travel with confidence and provide the assurance that we all need:
We're giving you the flexibility to change your booking up to 30 days prior to the departure of your tour. If, for any reason, you change your mind about your tour, you can select different dates without penalty.
With our free, no obligation 7-day booking hold, you can rest assured knowing that your preferred tour is waiting for you until you confirm your travel plans.
Over three decades, we have built and nurtured an outstanding reputation for innovative tour experiences, superb service, experiential activities, warm hospitality and a higher overall quality compared to other tour companies.We have learned to always conduct our business conservatively and today we give you the assurance that you can still explore and discover Italy with confidence. Your well-being has always been our top priority and with our comprehensive approach outlined above, you can be sure that when you tour with us you are in good hands.
ADVENTURES AND TOURS IN THE OPEN AIR
While years ago we've been pioneers in adventures and experiential tours off the beaten path no one else was offering, these activities worked just fine during spring and summer 2020, when the pandemic was still on but travelling was allowed. These tours are ideal also for spring and summer 2021 as they grant self distancing, being in the open air and away from any crowd. Plus you get to discover something you won't find anywhere else. Before Summer 2021, however, City Tours, Museums ad other spots in the cities will be safe again. To give you ideas of adventure tours out of Rome, please wath the videos below.
Watch some ideas for your upcoming trip from our proposals:
USEFUL LINKS
National travel advisory services
Please stay safe and we look forward to welcoming you on your future travel adventure, when the time is right.