The euro is used in 16 EU countries. Find out more about the euro, the exchange rates of other currencies, withdrawing moneyand carrying cash.
---
The euro is the legal tender for more than 325 million people in 16 EU countries. The symbol for the euro is €.
The euro notes are identical in all countries but each country issues its own coins with one common side and one side displaying a distinctive national emblem. All the notes and coins can be used in all EU countries that have adopted the euro, including many of their overseas entities, such as the Azores, the Canaries, Ceuta and Melilla, French Guiana, Guadeloupe, Madeira, Martinique, Mayotte, Réunion, and Saint Pierre and Miquelon.
Monaco, San Marino and Vatican City have adopted the euro as their national currency which also gives them the right to issue a certain number of euro coins with their own national sides. A number of countries and territories use the euro as their de facto currency such as Andorra, Kosovo and Montenegro.
Denmark, Sweden and the United Kingdom do not currently use the euro. Slovakia joined the euro area in January 2009 and the eight other countries that have entered the EU since 2004 are committed to adopting the euro when they are ready.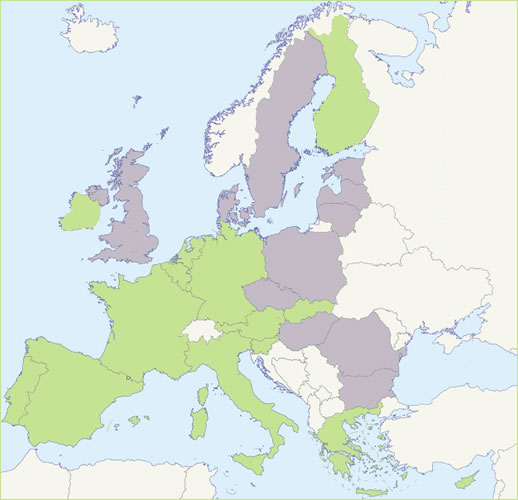 EU countries using the euro: Austria, Belgium, Cyprus, Finland, France, Germany, Greece, Ireland, Italy, Luxembourg, Malta, the Netherlands, Portugal, Slovakia, Slovenia and Spain

 EU countries not using the euro.
Exchange rates
Rates will vary, but in September 2008 one euro bought approximately:
Country

Currency

Exchange rate

Bulgarian lev
1.95
Czech koruna
26.6
Danish krone
7.45
Estonian kroon
15.6
British pound sterling
0.97
Hungarian forint
266
Lithuanian litas
3.45
Latvian lats
0.70
Polish zloty
4.14
Romanian leu
4.02
Swedish krona
10.95

---

Chinese renminbi-yuan
9.63
Indian rupee
67
Japanese yen
127
Rouble
41
US dollar
1.41
The latest exchange rates can be found at the European Central Bank website and there is a handy currency converter to help with calculations. In European countries outside the euro area many hotels, shops and restaurants, particularly in tourist areas, accept payment in euro as well as the national currency, although they are not legally obliged to do so.
Withdrawing money
Thanks to EU rules, withdrawing euro from a cash machine, making a card payment or a bank transfer in euro (up to €50 000) now costs you the same anywhere in the EU as it would cost you in your own country. These rules also apply to transactions on euro accounts in countries outside the euro area and to payments in Swedish krona.
The European banking industry, supported by the EU, is creating a Single Euro Payments Area to make all electronic payments across the euro area, whether by credit card, debit card, bank transfer or direct debit, as easy as a domestic payment.
Carrying cash
You can enter or leave the EU with up to €10 000 in cash without declaring it. Any larger amount of cash has to be declared to the customs authorities. These cash controls are aimed at fighting money-laundering and other criminal activities. Some member states apply cash controls to those travelling between EU countries.
Stay Safe
Rome is generally a safe place, even for women travelling alone. There is very little violent crime, but plenty of scams and pickpocketing which will target tourists. As in any big city, it is better if you don't look like a tourist: don't exhibit your camera or camcorder to all and sundry, and keep your money in a safe place
---
. Conscientiousness and vigilance are your best insurances for avoiding becoming a victim of a crime in Rome. Remember, if you are pickpocketed or another scam, don't be afraid to shout 
Aiuto, al ladro!
(Help, Thief!). Romans will not be nice to the thief.
Members of the Italian public are likely to be sympathetic if you are a crime victim. Police are also generally friendly if not always helpful. Carabinieri (black uniform, red striped trousers) are military police, and Polizia (blue and grey uniform) are civilians, but they both do essentially the same thing and are equally good, or bad. If you are robbed, try to find a police station and report it. This is essential to establishing a secure travel insurance claim.
Rome is home to two rival Serie A football clubs, A.S. Roma and S.S. Lazio, and there is a history of conflict, and even rioting, between the two. If you dare to wear anything that supports either of them, especially during the Rome Derby (when the two clubs play each other), make sure you don't wander into supporters of the other club, or you may be subject to heckling or even confrontation. Play it safe and refrain from openly supporting either club unless you are very familiar with the rivalry. If you are a fan of a foreign team playing in Rome (especially against Roma) be very very careful as a number of supporters have been stabbed over the past few years purely for being foreign.
Pickpocketing
Being the incredibly popular tourist destination it is, some of pickpocketing and bag or purse-snatching takes place in Rome, especially in crowded locations, and pickpocketers in Rome can get pretty crafty.
As a rule, you should pretty much never carry anything very valuable in any pocket. The back pocket of your pants is one of the easiest & most common targets. Keeping your wallet in your front pocket or in your bag is far from safe. You should consider using a money belt and carry only the cash for the day in your pocket.
Also beware of bag-snatchers--one popular technique that purse-snatchers use is to ride by you on a moped, slice the strap with a knife and ride off. They might also try to cut the bottom of your bag open and pick your wallet from the ground. Others will use the old trick of one person trying to distract you (asking for a cigarette, doing a strange dance) while another thief picks your pockets from behind. Bands of gypsy kids will sometimes crowd you and reach for your pockets under the cover of newspapers or cardboard sheets.
Termini (the main railway station), Esquilino and bus line 64 (Termini to San Pietro) are well known for pick-pockets, so take extra care in these areas. In Metro pickpockets are extremely skilled.
Remember that hotel rooms are not safe places for valuables; if your room doesn't have a safe give them to the hotel staff for safekeeping.
You don't have to be totally paranoid, but be aware of the danger and take the usual precautions.
Tourist scams
Read up on the legends concerning tourist scams. Most of them occur regularly in Rome and you will want to see them coming.
A particular scam is when some plainclothes police will approach you, asking to look for "drug money," or ask to see your passport. This is a scam to take your money. You can scare them by asking for their ID. Guardia di Finanza (the grey uniformed ones) do customs work.
Currently there are two middle-aged men working near the Spanish Steps. They approach you, asking where you are from and begin to tie bracelets around your wrists. When they are done they will charge you upwards of €20 for each bracelet. There are also two men in their early twenties doing the same thing in the Piazza Navona. If anyone makes any attempt to reach for your hand, retract quickly. If you get trapped, you can refuse to pay, but this may not be wise if there are not many people around.
When taking a taxi, be sure to remember license number written on the card door. In seconds your taxi bill can raise by 5, 10 or more euros. When giving money to taxi driver, be careful.
Be careful of con-men who may approach you at tourist sights such as the Colosseum or Circus Maximus. Eg. a car may pull up next to you, and the driver ask you for directions to the Vatican. He will strike up a conversation with you while he sits in his car, and tell you he is a sales representative for a large French fashion house. He will then tell you he likes you and he would like to give you a gift of a coat worth several thousand euros. As you reach inside his car to take the bag the coat is in, he will ask you for €200 for gas, as his car is nearly empty. When you refuse, he could turn angry and now demand money from you, any money, of any currency. Don't fall for such confidence-tricks - if something sounds too good to be true, it is.
Tourist traps
Whenever you will book your tour in Rome with me or not, I would like to warn you on the following tourist traps in Rome, at the airport/station and  its port.
I  noticed the proliferation of the internet advertisements  who promise the so called Driver-Guides or Chauffer-guide, but please note that these fellows are illegal in Italy.
Please remember that a driver is a driver ... and be aware of " driver guides " as they are not official tour guides of Rome as a real tour guide must be licensed by local authorities after the legal and public written and oral exams of tourist guide.
The drivers in this case are cheating you as they cannot operate as guides.
A Tour guide is fully trained to offer commentary on driving tours plus provide walking tours and tours inside historical sights and museums.
A Driver can only provide transportation and may only speak limited English (without mentioning that every stop you should be waiting for him to park  his car to reach you).
Those who hire just a driver thinking that he is also a guide will never experience Rome or any great historical sites in Italy in the right way; sometimes is better not having any tour or ground service than risking to ruin your Rome discovery, something that I consider a lifetime experience.
Emergencies
In an emergency call 112 (Carabinieri), 113 (Police), 118 (medical first aid) or 115 (firemen). Carry the address of your embassy or consulate.
Chiesa di Santa Maria in Palmis, better known as Chiesa del Domine Quo Vadis? is a small Church southeast of Rome. It is located about 800 m from St. Sebastian Gate (Porta San Sebastiano), where theVia Ardeatina branches off the Appian Way.
There has been a sanctuary on the spot since the 9th century, but the current church is from 1637. The current façade was added in the 17th century.
It has been supposed that the sanctuary might have been even more ancient, perhaps a Christian version of some already existing temple: the church is in fact located just in front of the sacred Campus dedicated to Rediculum, the "God of the return" (his name comes from the Latin verb redeo = to come back); this campus hosted a sanctuary for the cult of the god, that received devotion by travellers before their departure, specially by those who were going to face long and dangerous journeys, towards far places like Egypt, Greece or the East (and the travellers who returned, always stopped to thank the god of the happy outcome of the journey).
The position of the sanctuary in Campus Rediculi was not accidental, first of all because the ancient Appian way was the most important among the Roman "consular" roads, secondarily because from this location the traveller could give the last look to the walls of Rome. In the sacred field there was also the tomb of a famous talking crow, buried at the time of emperor Tiberius with a great popular funeral. Besides, the god Rediculum had a terrible reputation: a legend remembers that Hannibal, after the Battle of Cannae, arrived in front of the doors of Rome following this road; here the god appeared to him in a frightful way, in order to suggest retreating with all his army. This legend lets us suppose that Romans held Rediculum in deep consideration. At the moment we still do not know with precision where exactly the sanctuary was; however an error by some authors of 17th century caused many commonly to think still today that the temple of Rediculum was the sepulchre also said to be of Annia Regilla, toward the inner side of the Caffarella park.
The presence of the Apostle Peter in this area, where he is supposed to have lived, should however find a confirmation in an epigraph in the catacombs of Saint Sebastian, that recites "Domus Petri" (house of Peter) and in an epigram by Pope Damasus I (366-384), in honor of Peter and Paul, in which we can read: "You that are looking for the names of Peter and Paul, You must know that the saints have lived here".
The two footprints on a marble slab at the center of the church (copy of a relief conserved in the near basilica of San Sebastiano) would be the miraculous sign left by Jesus: it is actually a draft of an "ex voto" paid for the good outcome of a travel, what would confirm the supposition that some connection might link the two temples.
The real name of the church, very little known, indeed, is Chiesa di Santa Maria in Palmis, where palmis stands for the soles of Jesus.
It has to be noted that the Roman Catholic Church admits the legend, after Pope Innocent III declared the fact was true; his decree is included in the Decretali di Gregorio IX book IV, tit. 17, cap. Per Venerabilem.
There was an inscription above the front door on the façade, saying: "Stop your walking, traveller, and enter this sacred temple in which you will find the footprint of our Lord Jesus Christ when He met with St. Peter who escaped from the prison. An elemosina for the wax and the oil is recommended in order to free some spirits from Purgatory". Pope Gregory XVI found it so inappropriate (effectively being a sort of advertising) that he ordered its removal in 1845.
In 1983 Pope John Paul II defined the church "a place that has a special importance in the history of Rome and in the history of the Church".
The precise address is: Via Appia Antica, 51.