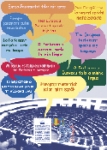 In the European Parliament, all Community languages are equally important: all parliamentary documents are published in all the official languages of the European Union (EU) and every MEP has the right to speak in the official language of his/her choice. What better way to guarantee the transparency and accessibility of Parliament's work for all members of the general public.
---
Firmly rooted in the European treaties, multilingualism is the reflection of the cultural and linguistic diversity of the European Union. It also makes the European institutions more accessible and transparent for the general public, which constitutes a guarantee for the success of the EU's democratic system.
The European Parliament differs from the other EU institutions through its obligation to ensure the highest possible degree of multilingualism. All EU citizens must be able to refer to legislation directly concerning them in the language of their country. Furthermore, since every European citizen has the right to stand for election to the European Parliament, it is unreasonable to require Members to have a perfect command of one of the common languages. The right of each Member to read parliamentary documents, to follow debates and to speak in his/her own language is expressly recognised in Parliament's Rules of Procedure. In addition, in its role as legislator the European Parliament is obliged to guarantee that the linguistic quality of all the laws which it adopts is beyond reproach in all official languages.
The Treaty provisions also allow all European citizens to follow Parliament's work, to ask questions and to receive replies in their own language.
If your airline goes bankrupt and leaves you stuck what are your legal rights? Wednesday at midday a crucial vote will be held by MEPs in Strasbourg that could clear the way for the setting up of a compensation fund for stranded passengers. Members of the Transport Committee have already backed plans for grounded flyers to be compensated. In the last decade almost 100 airlines across the EU have gone bankrupt - leaving thousands of passengers out of pocket and stuck at a foreign airport.
---
Sabena, Sky Europe and Olympic Airlines are just three of the large carriers that have gone bankrupt due to a combination of high fuel costs, competition and new security measures after 9/11.
Transport Chair Brian Simpson speaks of "clear loophole"
On 7 October during the plenary session in Brussels, the Chair of the all-party Transport Committee, Brian Simpson (Labour, North West of England), formally asked the European Commissioner for Transport Antonio Tajani to set up "a reserve compensation fund" and consider updating passengers' rights legislation.
He told fellow MEPs that "here we have a clear loophole and it would be preferable for all if we could work together and fill it in".
He added: "We have also floated the idea of establishing a reserve compensation fund, but this must not be seen as a demand. We merely wish to open up the debate as to what mechanism will help us best solve this problem."
Mr Simpson went on to say that "many of these people are not regular business flyers or regular flyers like ourselves, and they do not have the financial means to deal with this sort of upheaval. They are normally from those families who spend their savings on a family holiday, only to see their hard-earned money go down the drain through little fault of their own".
Transport Commissioner Tajani backs compensation
Speaking in October Commissioner Tajani told Members that "passengers should indeed receive compensation. We are working on specific measures to find the best solution". He said that one solution "would be changes in bankruptcy law in the member states".
There is a consensus across the Parliament's main political groups that the European Union needs to do more to help passengers stranded by bankrupt airlines. A Parliamentary resolution is due to be tabled later in the autumn.