Travel on horseback leads to a deep discovery of our landscapes, historical background and people. Don't miss the opportunity to be a knight for a day! Enjoy the open air of the Etruscan countryside. No experience in riding is necessary. Riding on horseback is ideal for rides through the Latium and Roman woods, hills and lakes.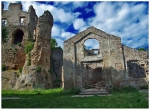 Let Your guide take you on a search for beautiful little churches, abandoned medieval cities, natural parks, Etruscan necropolis and their world, deserted monasteries and castle ruin, around volcanic lakes. The trails are often the same our ancient ancestors have covered over the last 3000 years.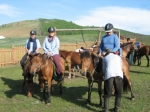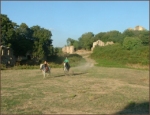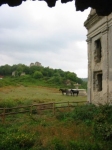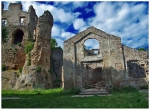 Il loro carattere equilibrato e la buona resistenza alla fatica li rendono i compagni ideali per gite tra i boschi e le colline delle nostre campagne. Equipaggiati per la gita, insieme a guide equestri esperte, potrete andare alla scoperta di luoghi incontaminati, villaggi medioevali abbandonati, necropoli etrusche,piccole chiese, abbazie e castelli in rovina, lungo le spiagge di laghi vulcanici, nei parchi naturali, nei boschi più suggestivi. Spesso i percorsi a cavallo sono quelli che compivano i nostri antenati, da 3000 anni fa, ai nostri giorni.