The most entertaining and ecological way to enjoy the treasures of Rome. Discover more wonders of Rome with less effort and more fun. The Exclusive Segway Tours will allow you to cruise effortlessly through the most beautiful sights of Rome while receiving a great orientation, informative historical and unique and fascintating stories, fantastic picture stops and superb service from your guide.
Effortless fun, no sweat in summer, zero emissions, tons of fun!
Capture the spirit of Rome with all your senses. Let the Segway do the work as you cover several miles accompanied by a professional guide who will assist you in experiencing the highlights and the hidden gems of Rome at its best. Ideal for families with kids and Professional Conventions as it is that perfect special tour in Rome that everyone is sure to enjoy.
Kids, teens, adults & oldies - everyone loves Segway fun rides. You'll be amazed at how easy and how much fun it is to do things you never imagined doing on the coolest machine in the world.
I am glad to offer my help to make the most of your family's vacation, company's conference or other organized event.
Enjoy visiting Rome while respecting the environment!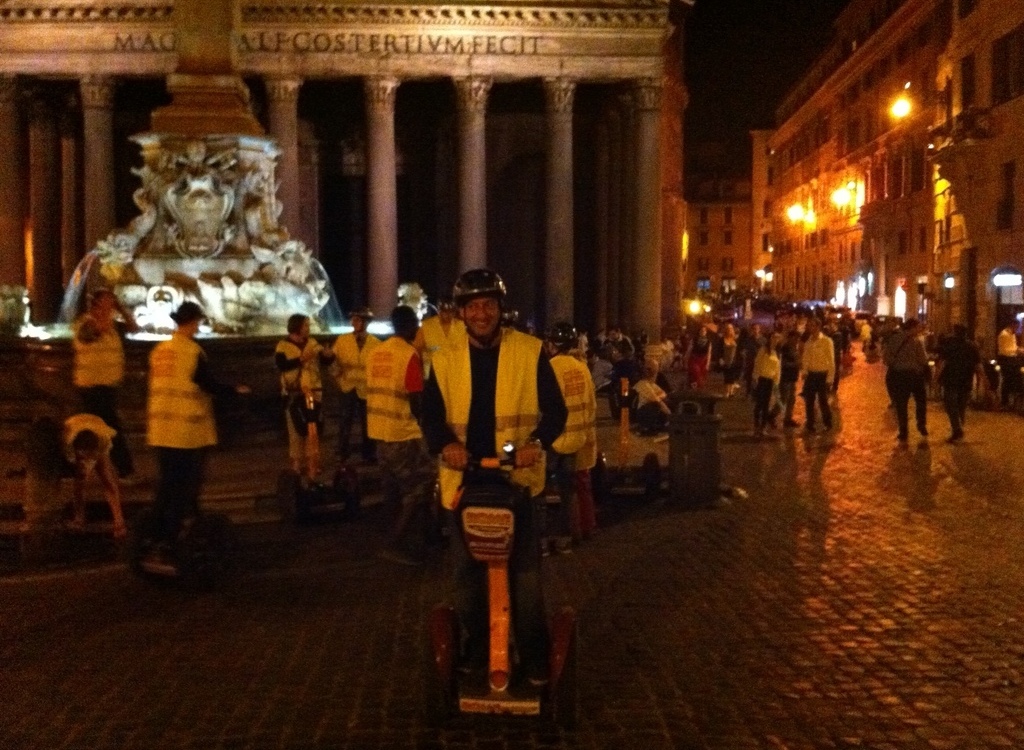 Since there is so much to explore in a city like Rome, you can personalize your experience by selecting what you would most enjoy seeing. The "Build Your Own" tour allows you to select options throughout historic downtown. Together, we will put your choices in a route, so you enjoy a wonderful Segway ride, while seeing your choice picks of the city. This may be customized to your time schedule as well (early morning or evening) and could be combined to other tour and Experiential Activities (Underground Rome, Vatican City, Walking Tours, Foodie Tours, etc).
There are several tour itineraries and activity combinations according to your interests and time that you can choose from, the two most quoted ones are:
The Imperial Rome: Colosseum, Roman Forum, Circus Maximus, Palatine Hill, Aventine Hill, Republican Temples, Arch of Costantine, Capitol Hill Square, Marcellus Theater, Venice Square, The Imperial Forum, and much more
La Dolce Vita: The Spanish Steps, Trevi's Fountain, Piazza del Popolo, Navona Square, the Pantheon, Hadrian Temple, Political and Fashion Districts, piazza and streets with hidden artistic gems and churches with breathtaking work of art, etc)
You can change and add virtually anything else that would make your trip unique and fun for you.
Ready to get started?Just write an email to get more specific information regarding your group, number of kids and their age, period of your stay in Rome and you'll get exactly what you want out of your Rome private tour!
MORE INFOS
For those of you not familiar with the Segway be assured that it is incredibly easy to learn to ride, taking just a few minutes to master .
The Segway is the first of its kind-a self-balancing, personal transportation device that's designed to operate in any pedestrian environment.
It's new, it's cool and a ton of fun!
The Tour starts with training session on how to operate a Segway safely. Tours last from a minimum of 3 hours onwards and could be combined with other tours and activities.
Ages 13-80 are welcome with a weight restriction of 280 lbs. All riders are required to wear helmets.
CONDITIONS
To Join our segway tours you will have to meet the following requirements:
Riders must be over 100 pounds and less than 250 pounds (46-113 Kilos).
Riders must be able to easily and quickly step on and off the Segway without assistance, which requires physical abilities similar to climbing and descending stairs without any assistance or use of a handrail.
You will have to be phisically self-efficient.
The Segway is not appropriate for those weighing under 100 pounds (45 kg) or over 250 pounds ( 113kg). It can be ridden by people from 16 to approx. 70 years. For Partecipants from 12 to 16 we will request a written responsibility acceptance from the parents.
MINIMUM AGE REQUIREMENT
Min. 16 years old.
Anyone under the age of 18, must be accompanied by a legal/parental guardian during the entire duration of the tour.
Exceptionally, we can accept after a training session, children at least 12 years old , minimum 45 kg. weight, under parents responsibility written declaration.
FOR SENIORS (OVER 75)
it is required to have adequate motorial skill like going up and down stairs without help. We highly recommend to book a private tour in order to allow the tour leader to give them personalized service.