Rome's historical centre is a web of narrow streets and piazzas, buzzing with life and boasting remarkable monuments. This walking guided tour will take you for a walk to baroque Rome's renowned piazzas and fountains and will help you to discover and unlock the many secrets and legends our beautiful city hides, also passing through the Political district, Haute Couture and trading areas.
We'll ramble through the back streets to discover artistic and cultural surprises, admire breathtaking Bernini statues, mall churches which hide unexpected riches, marvel at Caravaggio's paintings, toss a coin in the Trevi's Fountain.
We will discover not only an open air museum, we will also deep ourselves in this magnificent theater.
WHAT YOU VISIT: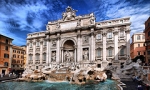 Trevi Fountain - The most majestic of the Roman fountains, an iconic monument famed in the film La Dolce Vita, where you can a throw a coin in the fountain to ensure your return to Rome!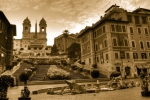 Spanish Steps - It's been the hangout of countless romantics over hundreds years. This large area comprehends the Fountain of the Barcaccia and the Trinita' Dei Monti scalinade which is the most beautiful stairway in Europe and that leads to the homonymous church.
Via Condotti -Rome's Haute Couture street also known for the Cafè Greco, the oldest in Rome
Piazza Colonna, Palazzo Chigi, seat of the Italian Government, and Column of Marcus Aurelius
Piazza Montecitorio, Palazzo Montecitorio, seat of the Italian Chamber of Deputies, and Obelisk
St. Ignazio church – A riot of Baroque illusions;
Piazza Pietra - The magnificent remains of the Temple of Hadrian stand among the beautiful 17th Century Piazza;
St. Lous of the French - A 400 years-old church with three paintings by Caravaggio inside;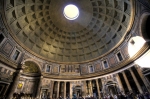 Pantheon – Built 1900 years ago and still perfectly preserved, is considered one of the masterpieces and most influential works of Roman architecture in the world. Astonishing for its dome and circular-shaped interior decorated with original colorful marbles;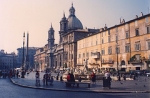 Piazza Navona - One of the most beautiful piazzas in all of Rome. It is built on the site of the ancient Stadium and is best known for its emblematic Fountain by Bernini and Borromini's church of Sant'Agnese in Agone. Walk around the vast square for pictures of the fountains, sculptures and different perspectives.
Duration 3 h
The tour and the itinerary are customizable upon reques.